Zero Gravity Windscreens - World Class Windscreens (Proudly Made in USA)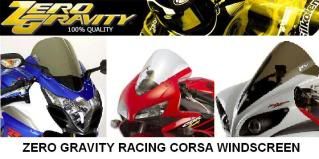 Zero Gravity Racing Corsa Windscreen
The Zero Gravity Racing line of Corsa Series windscreens provide increased wind protection while tucked in behind the windscreen.
Aerodynamic Breakthrough
Following the aerodynamic trends developed in competition racing, the Zero Gravity Corsa Series windscreens feature a MotoGP style look with a larger single bubble shape that helps the motorcycle achieve a higher top speed and greater rider comfort while tucked in due to the way the windscreen directs the airflow around the rider and bike.
All Zero Gravity Racing Corsa Series windscreens offer superior quality, strength, fit and finish and come factory pre-drilled for use with the stock mounting hardware.
Used by virtually all the top factory AMA Superbike teams, Zero Gravity Racing windscreens are the perfect brand on the track with over 12 AMA Superbike championships.
Superior Optical Quality: Zero Gravity Windscreens feature the best optics of any windscreen on the market anywhere. All Zero Gravity windscreens are fabricated using highly specialized "blow molding" techniques similar to those used to form aircraft canopies. The result is a virtual distortion free optical lens.
Strength plus Flexibility: Made from the finest grade of acrylic plastic, Zero Gravity windscreens are stretched as they are formed, a process which results in superior strength and flexibility. This flexibility allows the windscreen to absorb road vibrations and to resist cracking.
Best Fit to OEM Fairing: Zero Gravity windscreen are factory pre-drilled* and ready to install. The holes and windscreen profile closely match the O.E.M. fairing for a precision fit.
Race Proven: Used by the best Superbike, Grand Prix, Supersport and Endurance teams in America, Zero Gravity windscreens dominate roadracing from the club level to the nationals.
Corsa Series Windscreens (#24)
Honda
CBR600RR 07-10 (24-407): $165
CBR1000RR 04-07 (24-423): $165
CBR1000RR 08-10 (24-424): $165
Kawasaki
ZX-6R/ZX-6RR 05-08 (24-246m) $165
ZX-6R 09-10 (24-262): $165
ZX-10R 06-07 (24-246m) $165
ZX-10R 08-10 (24-262) $165
ZX-10R 2011 (24-263) $165
Suzuki
GSXR600/750 08-10 (24-112): $165
GSXR600/750 2011 (24-114) $165
GSXR1000 07-08 (24-111): $165
GSXR1000 09-10 (24-113): $165
GSXR1000 2011 (24-114): $165
Yamaha
YZF R6 08-10 (24-580) $165
YZF R1 04-06 (24-539) $165
YZF R1 07-08 (24-540) $165
YZF R1 09-10 (24-541) $165
BMW
S-1000RR 10-11 (24-810): $185
TRIUMPH
Daytona 675 06-08 (24-909) $165
Daytona 675 09-11 (24-912): $165
Double Bubble Windscreens (#16)
Honda
CBR600 F-4i 01-06 (16-404) $150
CBR600RR 03-04 (16-405) $150
CBR600RR 05-06 (16-406) $150
CBR600RR 07-10 (16-407): $150
CBR1000RR 04-07 (16-423): $150
CBR1000RR 08-10 (16-424): $150
CBR1100XX 99-07 (16-425): $150
VFR800 98-01 (16-453): $165
VFR800 02-10 (16-454) $165
VFR1200F 10-11 (16-455) $185
Kawasaki
Ninja 250R 08-11 (16-281) $150
ZX-6R 03-04 (16-245) $150
ZX-6R/ZX-6RR 05-08 (16-246m) $150
ZX-6R 09-11 (16-262): $150
ZX-10R 06-07 (16-246m) $150
ZX-10R 08-10 (16-262) $150
ZX-10R 2011 (16-263) $150
ZX-14 06-10 (16-274) $150
Suzuki
GSXR600/750 04-05 (16-108) $150
GSXR600/750 06-07 (16-110) $150
GSXR600/750 08-10 (16-112) $150
GSXR600/750 2011 (16-114) $150
GSXR1000 03-04 (16-107) $150
GSXR1000 05-06 (16-109m): $150
GSXR1000 07-08 (16-111): $150
GSXR1000 09-10 (16-113): $150
GSXR1000 2011 (16-114) $150
GSXR1300 99-07(16-133): $150
GSXR1300 08-10 (16-134): $150
Yamaha
R1 02-03 (16-538): $150
R1 04-06 (16-539): $150
R1 07-08 (16-540): $150
R1 09-11 (16-541): $150
R6 99-02 (16-577): $150
R6 03-05 (16-578): $150
R6 06-07 (16-579): $150
R6 08-11 (16-580): $150
FZ1 01-05 (16-506) $150
FZ1 06-11 (16-507) $150
BMW
S-1000RR 10-11 (16-810): $185
TRIUMPH
Daytona 675 06-08 (16-909) $150
Daytona 675 09-11 (16-912): $150
Tiger 1050 / SE 07-11 (16-911) $165
Sport Touring Windscreens (#23)
Honda
CBR600 F-4i 01-06 (23-404) $150
CBR600RR 03-04 (23-405) $150
CBR600RR 05-06 (23-406) $150
CBR600RR 07-10 (23-407): $150
CBR1000RR 04-07 (23-423): $150
CBR1000RR 08-10 (23-424): $150
CBR1100XX 99-07 (23-425): $150
VFR800 98-01 (23-453) $165
VFR800 02-10 (23-454) $165
VFR1200F 10-11 (23-455) $200
Kawasaki
Ninja 250R 08-11 (23-281) $150
ZX-6R/ZX-6RR 05-08 (23-246m) $150
ZX-6R 09-11 (23-262): $150
ZX-10R 06-07 (23-246m) $150
ZX-10R 08-10 (23-262) $150
ZX-10R 2011 (23-263) $150
ZX-14 06-10 (23-274) $150
Suzuki
GSXR600/750 04-05 (23-108) $150
GSXR600/750 06-07 (23-110) $150
GSXR600/750 08-10 (23-112) $150
GSXR1000 03-04 (23-107) $150
GSXR1000 05-06 (23-109m): $150
GSXR1000 07-08 (23-111): $150
GSXR1000 09-10 (23-113): $150
GSXR1300 99-07(23-133): $150
GSXR1300 08-10 (23-134): $150
Yamaha
R1 02-03 (23-538): $150
R1 04-06 (23-539): $150
R1 07-08 (23-540): $150
R6 99-02 (23-577): $150
R6 03-05 (23-578): $150
R6 06-07 (23-579): $150
R6 08-11 (23-580): $150
FZ1 01-05 (23-506) $165
FZ1 06-11 (23-507): $165
TRIUMPH
Daytona 675 06-08 (23-909) $150
Tiger 1050 / SE 07-11 (23-911) $165